Facilities
THE INTERNATIONAL INTEGRITY PEACE & FRIENDSHIP SOCIETY, BANGALORE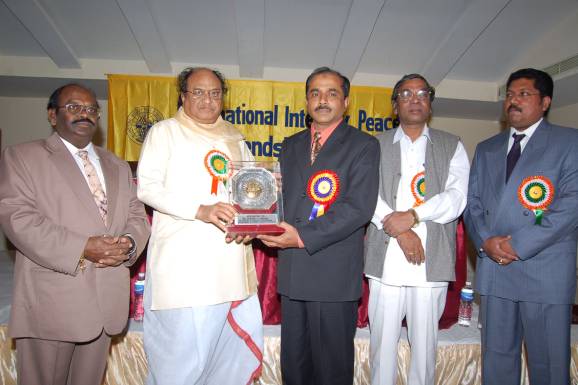 International integrity peace & friendship society, a nonpolitical and voluntary organization was inaugurated on 12th July 1991 in New York by his excellency Dr. Abid Hussain of Indian Embassy at Washington, to promote harmony, openness and peace among the people of the world through co-operation, acknowledgement and commitment.
One of the principle aims of IIPFS is to recognize men and women of outstanding achievements in the fields of social services, medical services, education, engineering, architecture, industries, sports & other exceptional accomplishments and honour them with awards and certificates of excellence.
To arrange visits of different delegations to friendly countries to meet people of all fields and vocations, including science, technology and education.
To act in the best interest of government, country and most importantly, the society.
To establish and develop an international friendship fraternity and foster and bond of humanity and service through different events and programmes.
To help and encourage brilliant students of schools, colleges and university.
To organize programmes to raise funds and donations for the fulfillment of iipfs objectives.
To celebrate and understand the richness of all cultures and traditions, in order to nurture peace and tolerance in the world.
To acknowledge and encourage those engaged in selfless service, people who have striven for excellence and also those whose contributions have benefited the society at large.
In today's world two factors are seen as most important – power and race for power. In this dynamic, potentially explosive scenario, only one thing can anchor the human race – peace and mutual co-operation. The world governments are already burdened with administrative, executive and security concerns. So it is up to us, the supporters of the world's largest democracy, to take up this mission to instill the spirit of humanity, kindness and tolerate for a fellow human being, in the minds and hearts of millions.
IIPFS has conducted a seminar on "Development challenges towards 21st century in India" & presentation of the "Pride of India" awards at Hotel Anmol Continental, opp: Secretariat, Saifabad, Hyderabad on 7th august, 2006. The Chief Guest of the function was Mr. Mohammed Ali Shabber, hon'ble minister for information & public relations Govt of Andhra Pradesh. Presiding Gnanapeeth awardee padmabhushan Dr. C. Narayana Reddy has presented the "Pride of India Award" to Mr. Shahid S. Ansari, director, Shadan Institute of Management Studies, Khairatabad, Hyderabad.